A Production Managers Guide to the 'Thing' in the 'Internet of Things

What is the Thing about Internet of Things
The Thing in the 'Internet of Things' could be an asset, a person or a key process parameter, that a Production Manager would want to measure and improve……..
As a Production Manager you may have one or more of these Problems
Improving Process Efficiency by reducing TAKT (Process Turnaround Time)

Pallet Tracking in-house and at vendor locations

Asset Tracking in-house and at vendor locations

Vehicle Tracking 

Forklift Tracking and Optimization

Casual Labor Tracking 
What do I do as a Production Manager?
Identify Key Pain Areas and Process Improvisation Opportunities

Workout Tangible outcomes e.g. TAKT to reduce by 20%, Yield per day to increase by 10% in one month and so on

Select a small business case/process area

Work out all the challenges, Inputs and outputs to the system

Seek and Solution Provider and work out candidates for digitalization

Identify Automation Opportunities using IoT

Defined Dashboards and key metrics for predictable gains and Hyper Decisions

Roll-out POC plan and execute

Observe outcomes and then scale to bigger process applications
Solution to Business Problems
Improving Process Efficiency by reducing TAKT (Process Turnaround Time)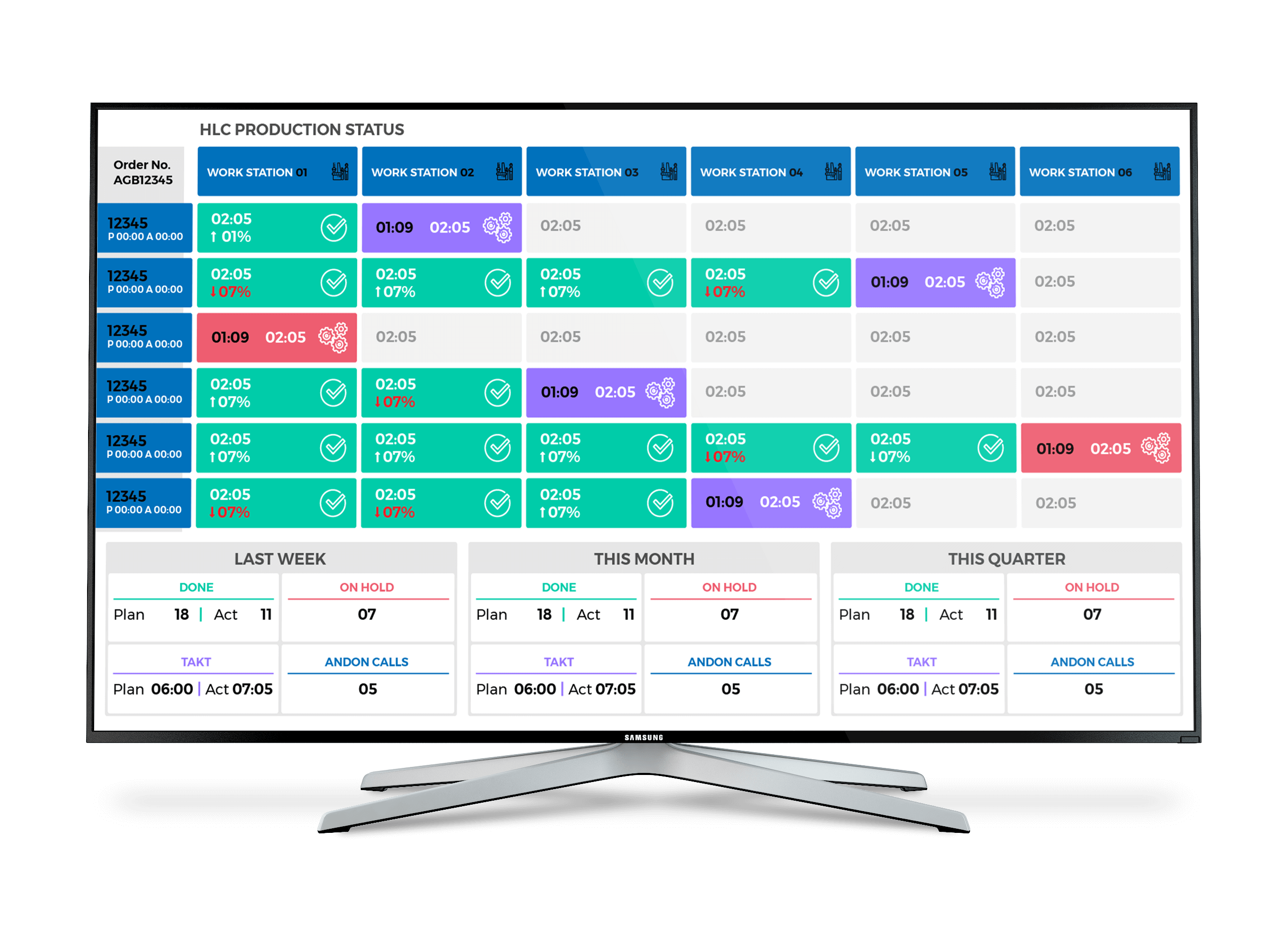 Pain Area
Too much time gets  wasted using manual processes for material request from stores

Time wasted in holding production line for want of material from vendor

Production Delays due to a technical issue on assembly lines and delayed resolution
Solution Approach
A heterogeneous ISAE (Intelligent Systems Around Everything) Framework based on IoT that connects Pallets, Production Jobs, ANDON Calls, People and Material to give:
Real time production status of a production line on a huge TV screen (As seen above) 

The TV screen depicts the following and can be used for hyper decision making based on real-time data

In Progress work stations with lapsed and planned process time (purple color blocks)

Material or Assistence calls (color red), These are called warehouse kanban or ANDON calls

Normal operations (color green)

Inferences in numbers for Week, Month and Quarter as seen on the screen for predictive analysis and planning
Business Benefits
Upto 30% Improved TAKT resulting in ROI and savings

10% to 30%Capacity enhancement resulting better yield

Customer Delight due timely and quality deliverable
Pallet Tracking in-house and at vendor locations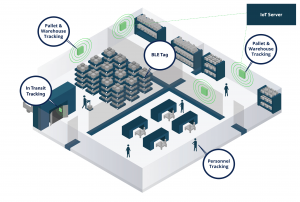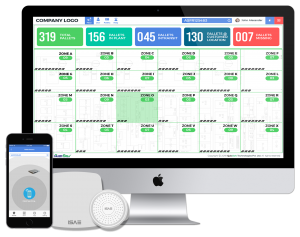 Pain Area
Pallets at various locations and vendors not available in time or have been inefficiently used

This causes production delays or damage to products due to wrong pallets

Revenue losses due to lost pallets, unaccounted for pallets and subsequently new pallet manufacturing when already pallets are at vendor location
Solution Approach
Enabling smart pallets with use of BLE Tags and BLE Gateways. 

Putting the information on Web using Real-Time Location System and ISAE framework

Putting the Gateways in Trucks to track Pallets in Transit and estimated time to arrive

Realtime dashboard on Laptops and TV screens for hyper decision making
Business Benefits
Save 100% of revenue lost in misuse of pallets by Vendors

Accurate location of pallets helps plan delivery and saves TAKT by 20% or more

Cost of pallet manufacturing can be reduced by upto 30%

ROI can be realised within 2 months of implementation
Detailed Solution available on Warehouse Pallet Tracking
Asset Tracking in-house and at vendor locations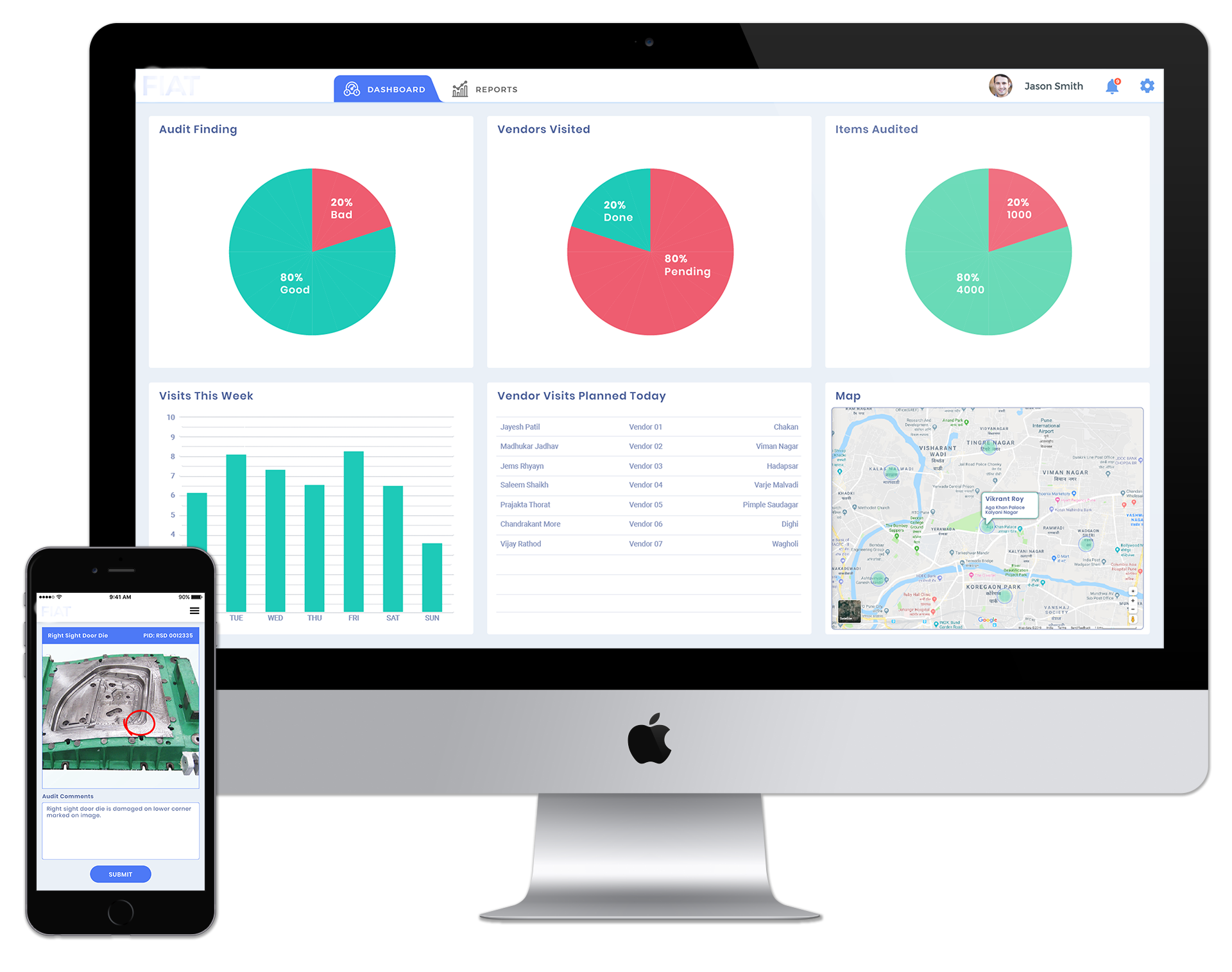 Pain Area
Assets at at various locations in-house and at vendor shops

These include Dies, Jigs and Fixtures 

Finding the location of assets during health audit is a major pain area and impacts audit timelines and data relevance

Finding the location and tracking of assets on demand becomes a bottleneck in a manual process system
Solution Approach
Onboard all assets on the system using BLE Tags and Gateways devices

Put the information on Web using Real-Time Location System and ISAE framework

On demand audits and health checks using custom apps

Real-time dashboard on Asset Age, Health and Location details

Analytics for decision making

Digitalization of asset movement and tracking
Business Benefits
Save 100% of revenue lost in misuse of assets by vendors

Accurate location of assets helps ensures securing stakeholders interest

70% cost reduction in audits due to automation 

ROI can be realised within 6 months of implementation
Vehicle Tracking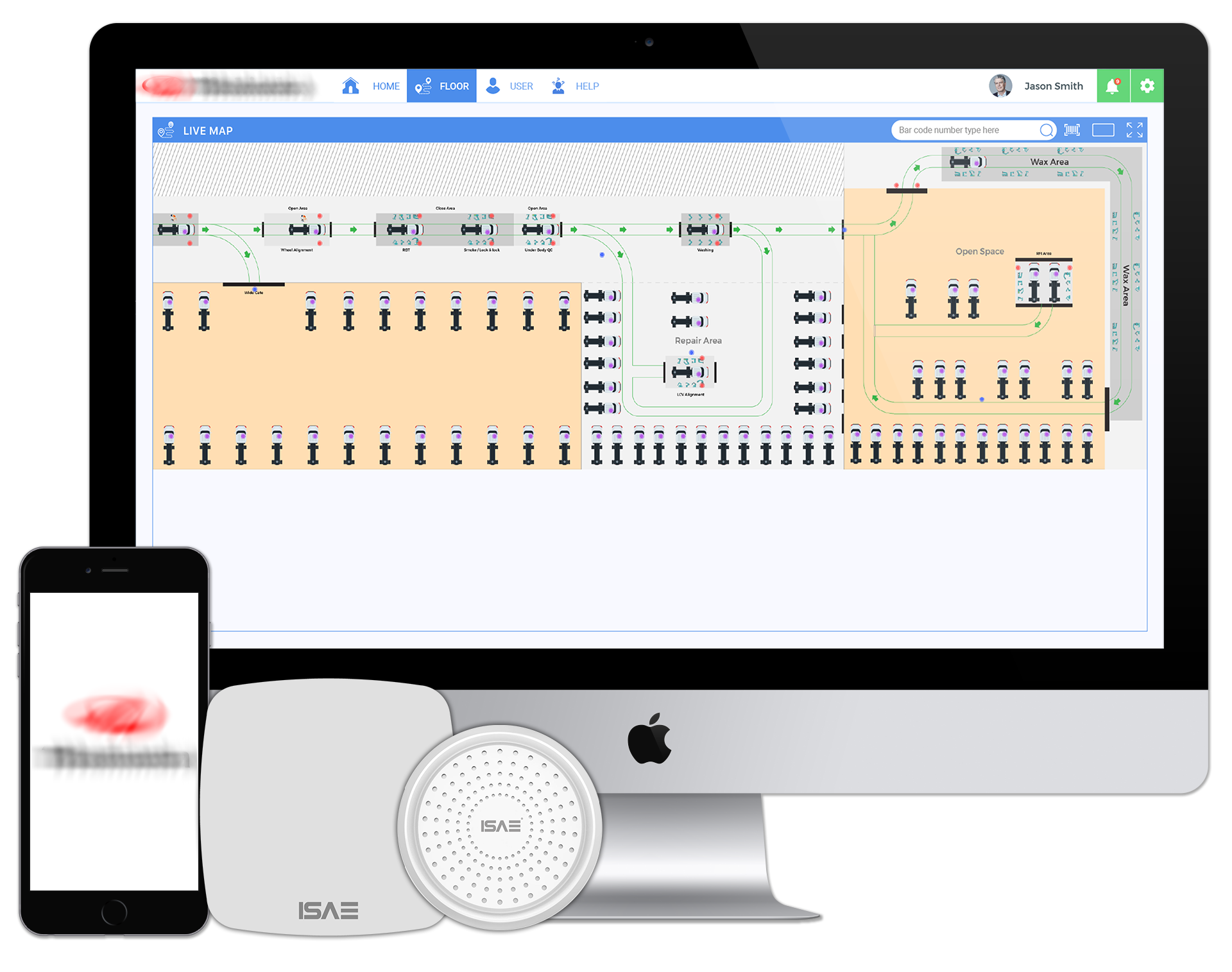 Pain Areas
Tracking of Vehicles in Yard and big areas is a manual process and takes hours to search

Tracking and Scheduling of Supplier vehicles is a great challenge

Vehicles in indoor locations and time at each location is unaccounted for and manually reported introducing efficiency and delay in dispatch 
Solution Approach
Asset tags go on sun visors of vehicles

BLE Relays are placed at locations that need to be tracked at micro level

BLE gateways cover wider range and transmit signals received from Relays to IoT servers using WiFi

Onboarding and Mapping against Vehicle Identification Number is done using mobile app

Once on system Vehicles is seen on a virtual floor and can be tracked in real-time

Real-time dashboard on dwell time and location inference available for management decisions in real-time synthesis
Business Benefits
Reduction in GATE TAKT for supplier vehicles 20% or more

Production of automobile and its delivery 100% Predictable for automobile industries resulting in customer delight

Hyper Decision making using real-time dashboards

Ready for Future Capacity Planning based on historical data
Forklift Tracking and Optimizing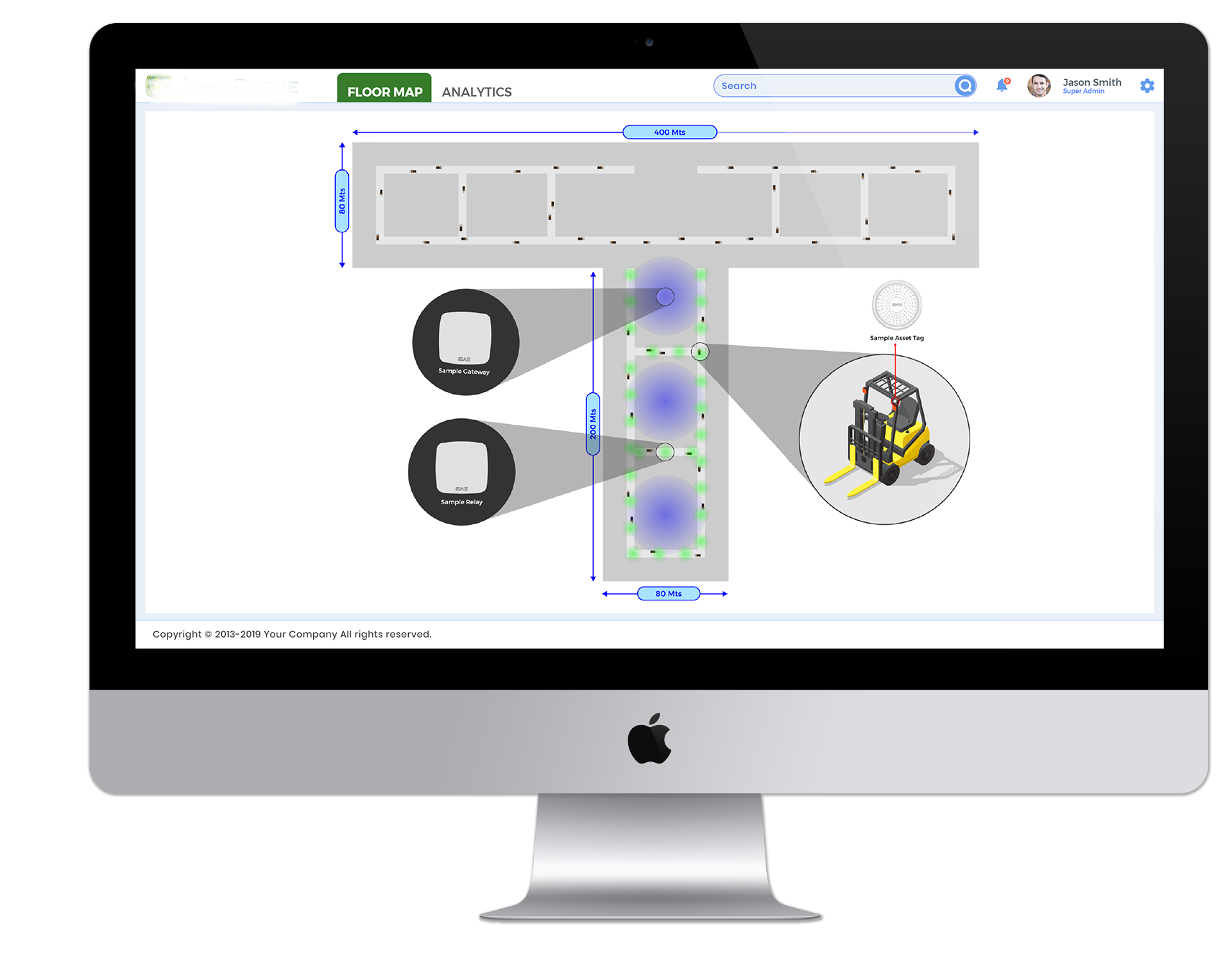 Pain Area
Not knowing how many forklifts are really needed in production increases the holding cost of forklifts

Path optimizations where dozens of forklifts are used is very important to generate savings
Solution Approach
BLE based asset tags with accelerometer goes on the forklifts 

BLE relays are placed in the pathway at reasonable distance for range

BLE Gateways are placed at intermediate locations – 

A web app with floor map for real-time location tracking is made available to users

The web has default dashboard with basic analysis on forklift movement and inferences

An application server has the data and application code

IoT server is hosted on QuicSolv's cloud or local datacenter for Forklift location data from gateways and sending back information to application server
Business Benefits
Based on industry standard practices and past experience of experts in the area of cost optimization we could think of the following value to business.
Reducing number of forklifts

– based on Industry analysis we have seen at least 10% to 15% fleet can be reduced after data analysis of actual usage

Substantial Savings

– Based on real-life applications we have achieved as high as 15% Savings within two months of implementation.
Casual Labor Tracking (Dynamic Production Planning)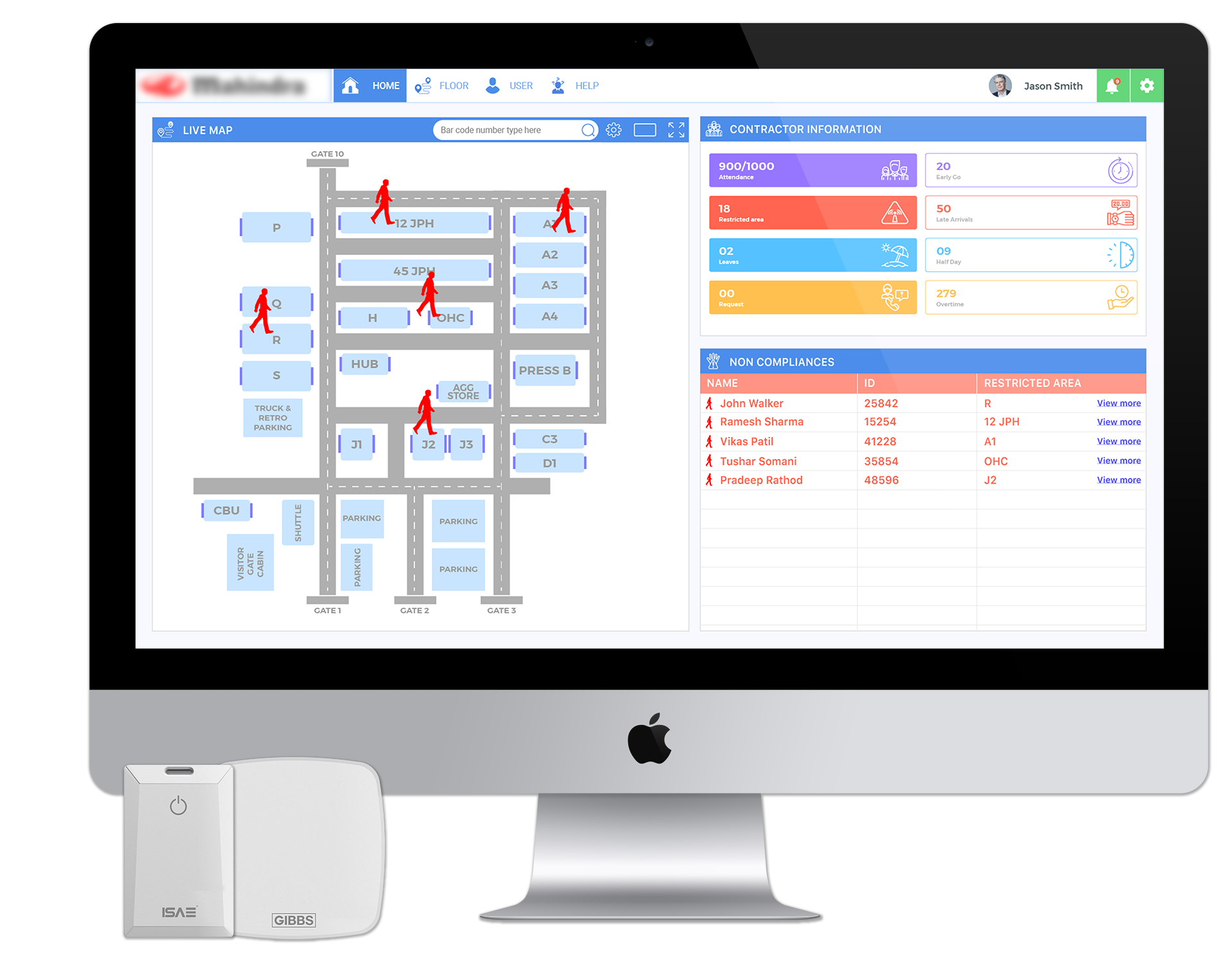 Pain Areas
Contractors or in-time labor is a boon but it is very difficult to mange their productivity 

Tracking them on the job is very difficult as they are not on the main HR channel

Billing/invoicing and security are big challenges when it comes to casual labor
Solution Approach
BLE based ID cards assigned to Casual Labors

Gateways go in Pick-up Bus and Real-time Locations on shop floors

Before one is logging into gate the real-time picture of strength of team is known well in advance

This help replanning and dynamic changes to scheduled deliverable
Business Benefits
20% time saved in re-planning

30% cost saved in production losses

100% ROI in 6 months
Click here to know more on Dynamic Planning and Control
General IoT Architecture for Production Line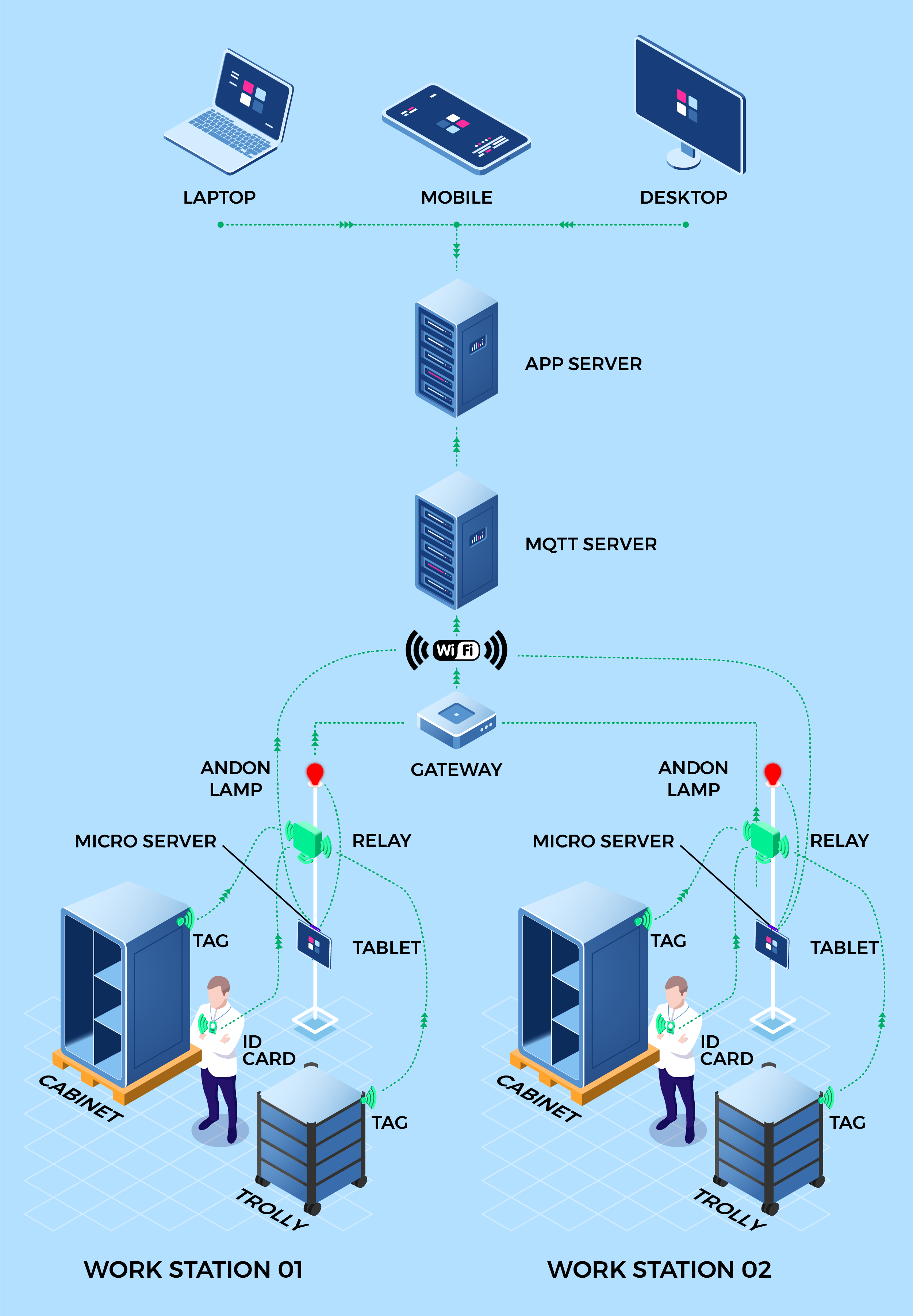 BLE Tags are used on Pallets, Vehicles and Assets send singles of their location

BLE ID cards are used to allocate human resources to operations and for visitors

Zone Mapping is done using BLE Relays which also receive Signals from Tags and ID cards and transmit to Gateway Devices

Gateways  are devices which which receives signals from Relays over BLE and Transmits to IoT server over WiFi

IoT processes that data and gives it to Application server where the business logic is applied and send to web portal for display

The display is done using Mobile Devices, laptops, Tablets and TV screens
Business Value of Implementing IoT Based Processes
Real-time Tracking  of Process parameters and Critical Operations

Asset, People and Vehicle Tracking

Reduced TAKT for all operations thereby greater capacity and higher revenue growth

Hyper Decision making looking and live dashboards

Data Analytics 

Better Control over Production Processes

Asset Mapping and location tracking at finger tips – smooth audits

Predictable delivery of products

Customer delight