How to do Contact Tracing using Bluetooth?

The Covid-19 pandemic has affected the way we think about safety at work. Many firms are attempting to come up with the right solution to give confidence to their employees, customers, and visitors to return to their everyday routine. A Bluetooth-based contact tracing is also one of the solutions that will help enhance safety in the work environment.
Are Contact Tracing and Social Distancing different?
Both these terms have become cliches in these COVID times but do we understand them correctly. They are related yet different in their applications and benefits. 
What is Social Distancing?
 Social distancing is basically keeping a safe distance between two people. Doing this helps to reduce the risk of transmission especially due to proximity. As per the guidelines given, a minimum distance of Six feet is needed to prevent people from getting infected. Such measures will decrease or interrupt the spread of diseases such as COVID-19. 
What is Contact Tracing?
Contact tracing on the other hand helps to trace out the people who have been in close contact with an infected person. This information is critical when the health authorities want to curtail the spread of infection. Typically the close contacted people identified are sent to quarantine or get tested immediately.
Social distancing helps to maintain safe distances but is insufficient to ensure protection in places like offices or industries where working together is inevitable. Contact tracing at the same time is highly critical in preventing outbreaks in workplaces.
How does Contact Tracing using Bluetooth work?
The solution for Contact Tracing tracks both – it does a real time tracking of the employees as well as tracing of their activity. The solution keeps a real time track of the employees and their interactions so that on a live basis you will know where a suspected or positive person is located and also know if any other person came in contact. The trace of the person's interactions will also provide a historic record of their past interactions.
The Contact Tracing system works with Bluetooth low energy IoT technology. Every employee is given a Bluetooth id card (Genio). The critical locations are fitted with the relays and gateways in the workplace. These relays/gateways constantly connect with the id cards and send out their location information to the cloud server. The system would provide signals at various levels. It would give warnings when someone is coming close to a suspected employee. Additionally, the interactions with this employee can now be accurately traced thereby ensuring a very accurate contact tracing ensuring that all the related people get quarantined. The contact tracing can be done with the help of a mobile app.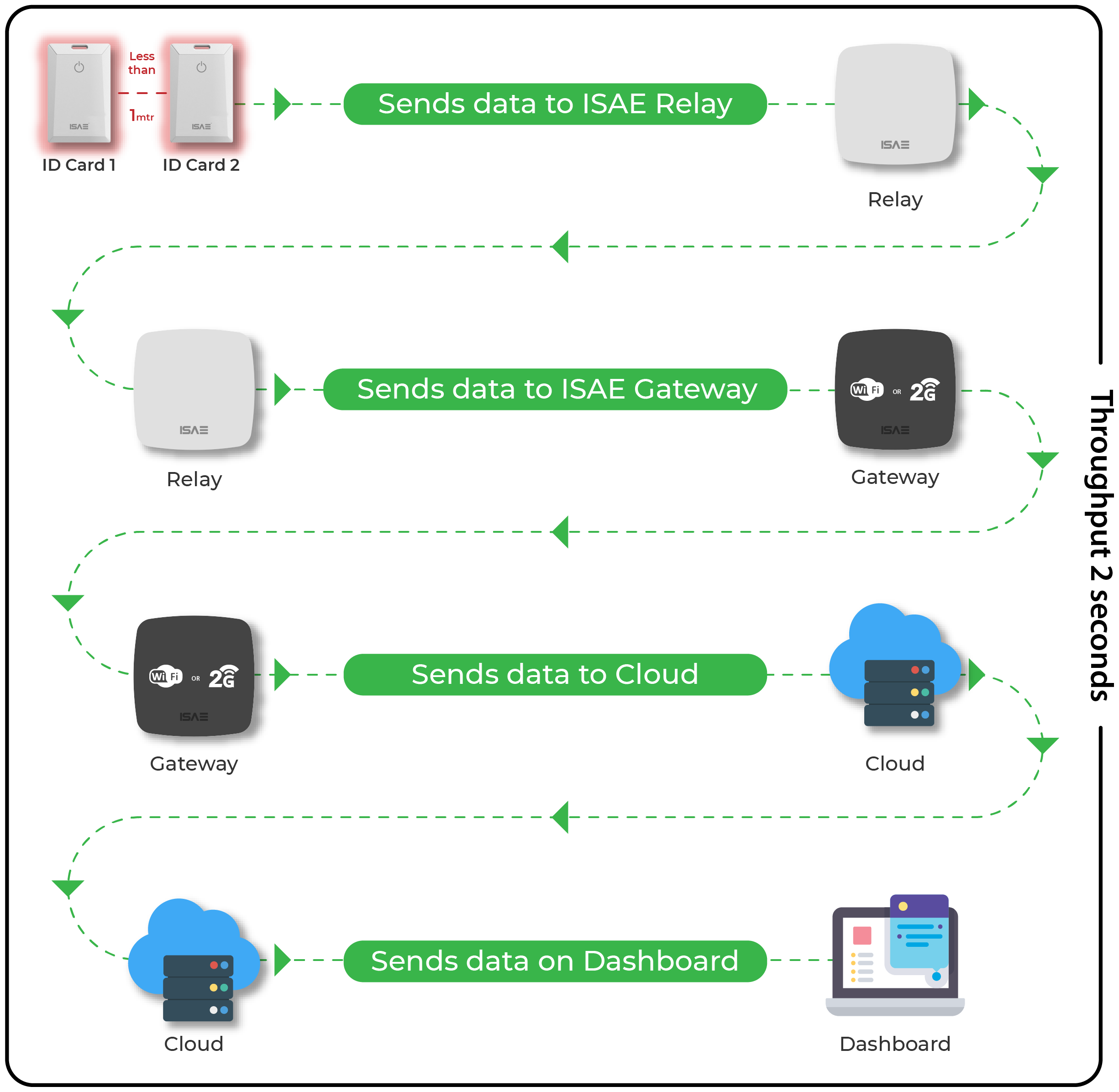 Benefits of Contact Tracing
Some of the major benefits of this solution includes:
Identifying early infection chains

Reduced need for mass testing 

Decreased Anxiety of Employees and Guests

Better trace and treatment coverage
Typically it is important in a pandemic to arrest the spread of infection by identifying the chain of people infected. One of the reactions of knowing that an employee has an infection like covid would be that everyone rushes to get themselves checked. If the company can provide the information as to who has been in contact and at a risk of infection, the unnecessary panic could be avoided and the employees would not need to waste money on doing tests when not warranted. The knowledge of such a system existing within the workplace would give a huge morale boost to the employees as well as make the guests coming into the company premises so much relieved. This kind of system ensures that the physical activity of contact tracing done by the health officials now becomes very accurate and more effective exercise.
Value Additions of Contact Tracing System
Apart from the fact that there are direct benefits from contact tracing system there are some additional benefits or value adds it can offer:
Maintain Social Distancing

Avoid Over Crowding

Check for Hygiene and Sanitization

Monitor Mandatory measures 
The advantage of such Bluetooth based solution is that it can additionally check if there is sufficient distance being maintained between two persons in the workplace ensuring social distancing. Also if there are more designated number of people getting together, it should be sending out a warning this way one can avoid the overcrowding problem. It also facilitates to check on hygiene and sanitization, by detecting if the employees came near the sanitizing facility. It can also connect with the thermal gun to auto record the temperature as well as check if the temperature of the person actually checked. 
Take Away
It makes a huge sense in implementing a bluetooth based contact tracing system considering the advantages. This would be specially beneficial in a setup where working together with is inevitable and it would be important to trace whom we had been in contact with incase there is a need for contact tracing.