Overcoming Employer Concerns during Covid-19

Problems are not stop signs, they are guidelines – Robert H. Shuller. 

In Covid times this is a very simple but powerful thought that would help to overcome some of the employer as well as employee concerns and challenges!! This is the second part of a two part series that looks at the solutions regarding the key concerns of Employers.
Overview
Organizations and Employers have learned during this COVID-19 pandemic that it is important to be resourceful. Surprisingly most of their workforces have shown their resilience and the flexibility to handle challenges thrown. 
Many fundamental shifts happen when faced with crisis. Typically organizations and employers have been wary of the concepts of Work from Home in a world where one couldn't have imagined a fully-remote workforce. Such Organizations were able to flip in to the Work From Home without much impact on productivity. HR professionals have played an important role in helping the employees to stop worry and focus on the challenges. 
How to overcome employer concerns?
Like discussed before, as the whole machinery remains focussed on concerns of Employees and that of work in terms of productivity, the concerns of Employers do remain sidelined. Let us look at some of the issues previously discussed and some solace for the Employers.
Paid Leaves
One of the major issues when giving Paid leaves to employees specifically those cases where they have come in contact with the infected person. As per health regulations, there is a mandatory quarantine needed for all such employees since the infection takes time to show it's symptoms. 
This becomes tricky for the HR department because there have been cases where people falsely report that they came in contact with the infected person. It becomes imperative that the employee is given a leave but there is no way to verify it.
If there was a way to track the movements of the employees within the plant or office and also a way to track with which employees have they been in close contact with, it would become so easy to verify and also scientifically determine if there are others who are in risk.
Employee Safety
The only plausible way to ensure reasonable safety as well as address employee anxiety is to ensure that employees use masks as well as maintain social distancing. Monitoring both these is a difficult proposition. Left alone, it is the tendency of humans to lose it. It would be therefore good to have a system that can warn you and bring it to attention that there is a violation. The fact that there is a system monitoring will force themselves to follow these safety measures.
Additionally, the fact that the tracking system enables easy contact tracing thereby ensuring no one gets left out by chance in the case of an infection getting confirmed.
Employee Morale
The fact that the management has implemented a monitoring system to ensure that employees are following the safety measures becomes a shot in the arm. In a typical scenario, any monitoring would be unwelcome by the employees but not so in this case. In these times, it is very important to the employees to know that the management is very serious about the health hazards and even ready to invest to ensure it. This would give a boost to their confidence as well as would reflect positively in their minds about the company as well as management.
Shutdowns 
The fact that there is a monitoring system, would give the management the needed artillery to face the authorities and convince them against a need for a complete shutdown of the plant or office. The ability to provide authentic tracking and monitoring data to the authorities will help them too with contact tracing.
Out of the Box
The key to a solution to most of the concerns outlined turns out to be System which enables tracking and monitoring of people in the workplace. This system would be able to identify people and their position within the workplace. 
Is there a solution which is "Out of the Box" solution? Answer is yes and no. Obviously the not so out of the box answer. lies in technology without which a mechanism for continuous monitoring would become infeasible. The out of the box part comes in the choice of the technology. The kind of solution needed should be able to tell where a person is within the workplace and also be able to trace people's movements as they move from one location to another location in real time. 
Typically these are known as rtls systems. Internet of things offers a technology that caters to solutions with all the above features. This technology has matured and today there are many examples of iot solutions available. IoT also has a promise when it comes to these Covid-19 challenges. A single solution which can cater all these basic needs is possible using IoT.
How will the solution work?
The IoT technology bases its ability to connect between devices. It uses bluetooth technology to do so. The Bluetooth Low Energy known as BLE is specifically used. This technology has advantages especially when it comes to the battery life. 
At the very basic level, every IoT device which could be an employee tag defined is tracked by the relays. These relays then communicate with the nearest gateways. The gateways connect with the cloud server to relay the information. The cloud server analyzes the positions recorded to know if the rules have been broken.  
If two tags have been found to be in close proximity beyond the prescribed limits, then the alarms can be raised to warn the employees and their supervisors. If sanitizers are not used, there could be alarms raised. If the sanitization is not carried out every two hours by the janitor there can be an alarm raised. Thus there are many such simple fail safes that can be implemented to ensure workplace hygiene.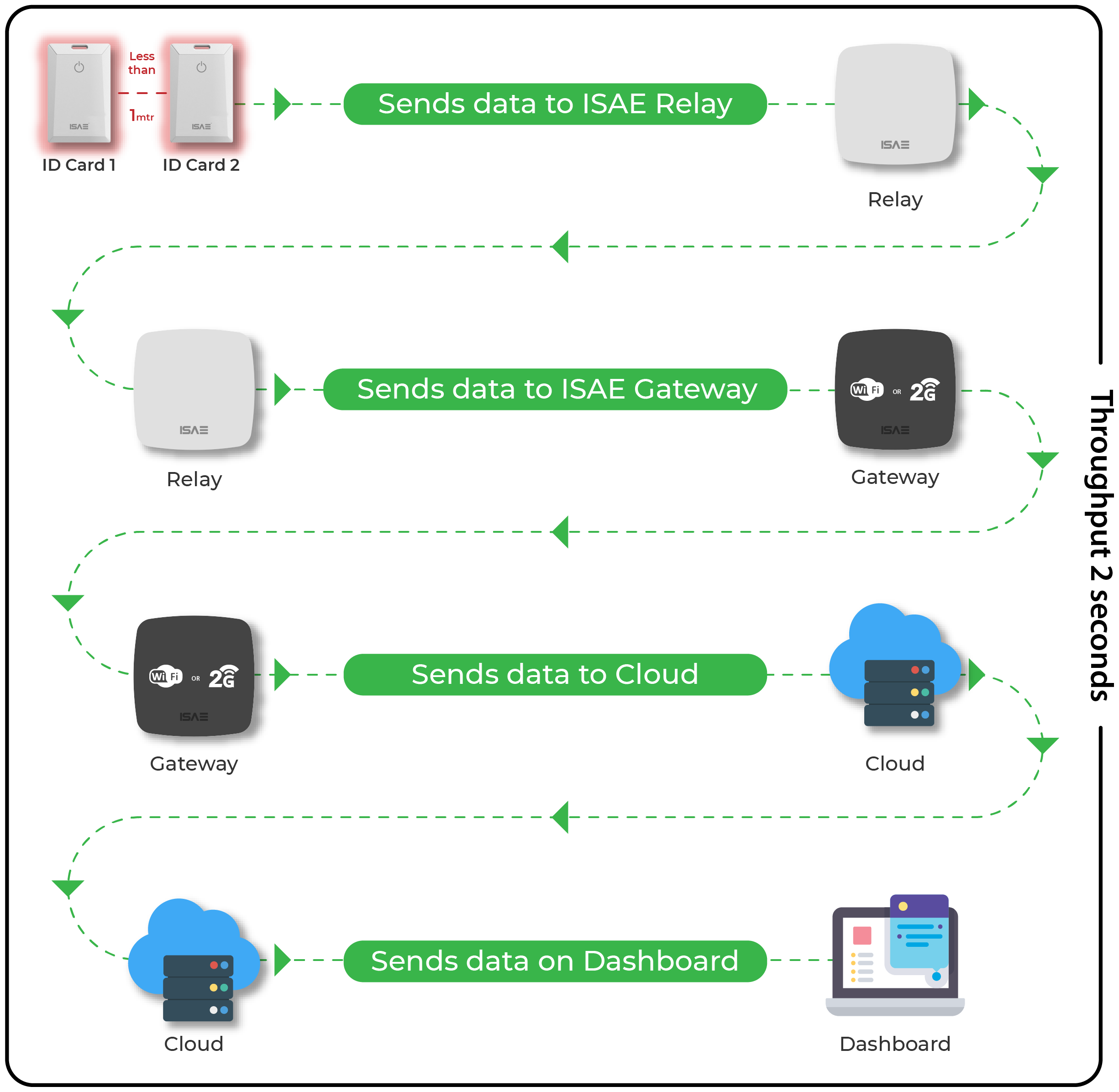 IoT Advantages
Let us look at the advantages of using iot solution. 
Wireless
Iot solutions are based on Technologies which are typically contactless or wireless. This reduces the physical constraints. 
Easy Implementation
The fact that the solution is wireless makes it easier to implement. It gives a lot of flexibility in terms of the position. Major advantage is that there is no need to layout wires or make any structural changes to put in place.
Seamless
The solution works in a seamless way, the employees would be able to work in their regular way without needing to do any step in their process or following any additional procedure.
Attendance
Recording of Attendance as they walk in through the gate without the need to punch in or out. 
Time Monitoring
System also provides insights into how much the time is being spent in various areas as well as employee tracking
Realtime
It also provides the advantage of realtime tracking by providing the realtime location
Way Ahead
There are many more advantages such an IoT-based system for tracking Social Distancing at workplace can offer and these are way beyond the Corona crisis. The implementation also paves way for IoT technology adoption in multiple ways. Feel free to contact us or reach out us at sales@quicsolv.com so that we can together explore solutions.