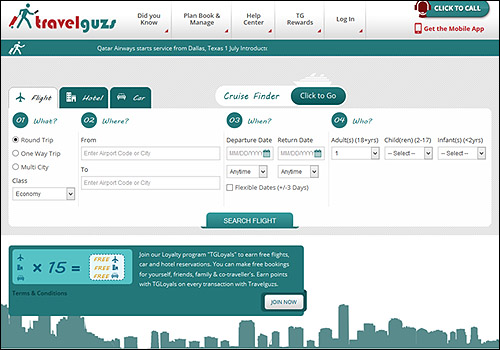 Case Study name:
An OTA (Online Travel Agency) that provides users with economic Air, Hotel, Insurance and Car with unparalleled user experience.
Business Challenge
With a gazillion travel websites in the market TravelGuzs wanted to penetrate the market with a unique selling proposition.
SABRE GDS is the most sought after and very complicated to integrate to.
EAN integration was required for hotels.
SABRE Cars integration was required to help with cars.
Wanted to build the unique loyalty program.
Wanted a combination of Flight & Hotels, Hotels and Cars, Flight and Cars etc.
Wanted an integration with Insurance Providers.
Wanted Security and Speed.
Wanted to build an affiliate program and a widget that can be added to a website with affiliate tracking information.
Wanted the site to be optimized for the search engines.
Wanted a mobile app for iphone and android.
QuicSolv Solution
Built a system that seamlessly integrated SABRE web services, Insurance and EAN web services.
Used bleeding edge technology like the HTML5 with MVC and Entity Framework to give scalability and robustness.
Used Brilliant architecture to keep the hosting costs and 'Total Costs of Ownership (TCO), low.
Built tight security without compromising on performance and scalability.
Got the system cleared and approved from SABRE and EAN.
Integrated with Facebook to allow easy registrations.
Built trackers to track commission on Sales.
Built the Loyalty program to enable the unique selling proposition.
Technology
.Net MVC 4.0
MSSQL
Entity Framework
EAN WSDL web services
SABRE web services
iOS and CodeX
Android
SSL
Facebook (FBL)
Business Benefit
This application has put TravelGuzs as the goto provider for Air, Car and Hotel services. Their customers are now able to book flight, hotel and car from any device they choose.