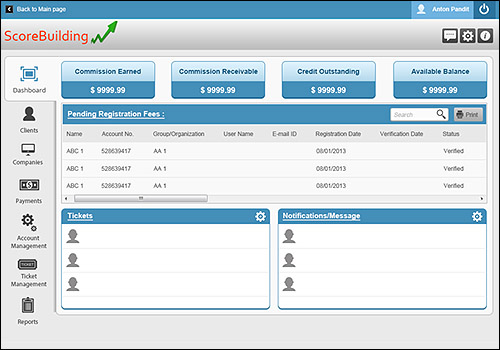 Case Study name:
Help improve the Credit Score of an individual by systematic bill payment process.
Business Challenge
The client needed a systematic solution to help increase the credit score of an individual.
Needed integration with a bank for fund loading and fund transfers.
Needed integration with a bill payment institution for in-network and out of network billers.
Needed integration with credit rating agencies like the Equifax and Lexis Nexis's of the world.
Needed integration with QuickBooks to help with accounting.
Needed a cloud base multi-tenant system that would help with multiple affiliates and companies.
QuicSolv Solution
Built a system that seamlessly integrated with FirstPay payment gateway. This integration helped with receiving online payments.
Used bleeding edge technology like the HTML5, JSON and Open GL to give the effects of a forward looking website.
Used Brilliant architecture to keep the hosting costs and 'Total Costs of Ownership (TCO), low.
Built tight security without compromising on performance and scalability.
Integrated with LexisNexis and Equifax to help get credit scores on demand. Used Soft Polling to ensure the process does not hurt the users credit score.
Integrated with Empasys bill pay system to streamline bill payment process.
Integrated the ACH payments solution for fund transfer and fund loading.
Integrated QuickBooks for transactions and accounting.
Built and account and fund management system for main accounts and sub accounts.
Built product packages that could be assigned to companies and affiliates.
Built an affiliate tracking system.
Technology
Java
EAN WSDL web services
SSL
Facebook (FBL)
Business Benefit
This application helped our client to take advantage of the economic condition and help those who needed to build the scores in a very structured and systematic manner. The dashboard allowed the clients to view their progress against their targets and take appropriate actions.