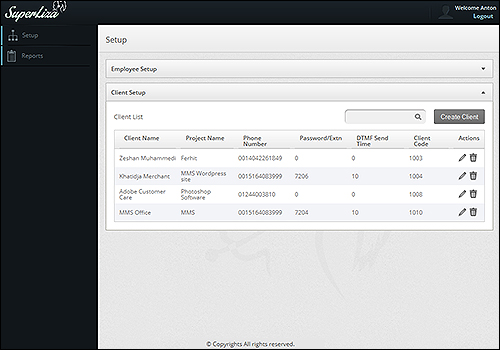 Case Study name:
A virtual IVR assistant to help with task reminders and bridging of calls.
Business Challenge
There are so many times that a task is assigned by a senior manager and it doesn't get done due to other priorities.
These are quadrant two tasks and as they are not urgent and important, the impact of these not done are not immediately understood.
The senior manager is expected to remind again of this task but sometimes it's too late or has missed the bus.
There are times when you are expected to get on a call and you don't have the call-in number and/or the PIN handy enough.
Many a times the time for the conference call has passed and you don't realize it until it's too late.
QuicSolv Solution
We built a solution that helps manage the issues of task reminders and call bridging.
Using Asterisk as the EPABX and a PRI line as the backbone, we built a frontend that was coined 'SuperLiza'
For Task reminder
SuperLiza would remember the tasks that have been allocated to the person and call at the precise time and date.
The IVR would accept the dial plan to update the task and also receive a voice message.
This way the person who the task was allocated would not need to physically type the update.
The recipient of the message would be able to listen to all the updates at a later point in time.
For call bridging
Once the call time is due, SuperLiza would pick up the number and pin from the database and set up the bridge.
Once the bridge is set up, SuperLiza would then call all the participants and add them to the meet me bridge.
This way, there would be only one international call to the international bridge and the PRI outgoing lines would be used to patch up the participants
Technology
C# .Net
Asterisk
MySQL
IIS
Business Benefit
This application helped improve responsiveness of quadrant two activities giving solace to the senior management in building their strategies. It helped save the task assignees from embarrassment and get work done in time.
From the call bridging perspective, the system would ensure the participants were on the call 5 minutes before the call time, thus displaying professionalism apart from the obvious advantage of cost saving.