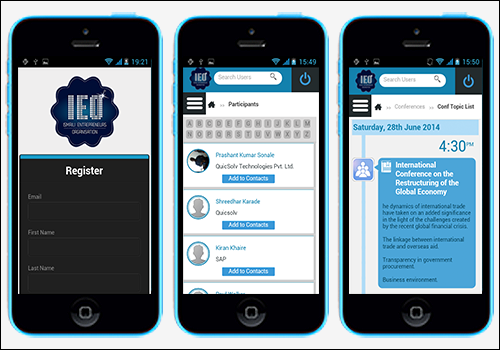 Case Study name:
Help ease networking during conferences and allow effective collaboration
Business Challenge
You attend a seminar or a conference and many a times your main objective is to improve networking
While in the conference the breaks are the only time you can do networking
In the time available, there are only so many contacts you can reach to and only 20% of those may be really work connecting with.
You are listening to a speaker and you have a question to ask, but there isn't enough time for questions
Or, some questions are just so dumb that you wish someone was moderating them before they reached to the panel or speaker.
Wish you could just get a list of all the attendees and you could add them to your address book or talk to only relevant attendees.
Wish the organizers would be able to seek feedback on the conference in real time
QuicSolv Solution
We built a mobile application that helps do the following
Allows the user to log in using Linkedin or Facebook.
This way we can pull in all the information of the user from the social network.
The attendee can update his information including the profile picture.
Once the Admin as approved the user as a legitimate attendee of the conference, the attendee can view other attendee data The best part of the application is, by clicking one button, you can add another attendee to your contacts.
During a particular event an attendee can raise a question and if the admin approves, all the attendees can see the question raised. This helps with non-duplication of questions.
The admin of the event can create survey questions that could be presented to all attendees and the feedback could be sought while the event is still fresh in mind.
Technology
Java
EAN WSDL web services
SSL
Facebook (FBL)
Business Benefit
This application helped our clients to network within themselves more effectively, not only during the event but also after the event. No wonder the next time the conference was called for, the marketing team did not need to input a lot of effort to gather the participants and the ROI was that the seats were filled before the early bird offer was closed.