Warehouse Pallet Tracking using indoor positioning system & IoT
Knowledge is Power for a manufacturing enterprise where; Productivity, Efficiency, Safety and Profits are the primary measures of success.Indoor positioning system using RTLS (Real time location service) provides this smartness by delivering real time tracking system and end to end visibility of all containers, warehouse pallets and returnable packaging. Internet of Things (IoT) allows low-cost tracking of returnable packaging in indoor environments of large-scale manufacturing environments.
Supply Chain – IoT is changing rules & Saving money
Global manufacturers are under tremendous pressure of lowering costs. As a result manufacturers have driven towards higher efficiencies, but at larger scales, the grinding from higher volumes of tools, fixtures, raw materials, work-in-progress, and finished products can slow production time and increase labor costs. A transformational improvement to manufacturing operations is the real-time monitoring of location. By ensuring that materials are stored and handled correctly and can be found when needed, manufacturers can decrease waste and improve performance.
While supply chain managers have been exposed to Real Time Locating Systems RTLS technology using RFID  the upfront cost has prevented their widespread adoption. With the advance of lower cost Internet of Things technologies, effective tracking and monitoring solutions can be installed and operated for 10x less.
Warehouse pallets are now being tracked using Bluetooth Technology 5.0. Bluetooth gateways and tags are increasingly being used in tracking the location of assets, inventory and returnable packaging in a warehouse and in transit.
The ISAE Warehouse Pallet Tracking solution uses multiple layers of device and data security to ensure your data and IT networks are safe. BLE data is encrypted end-to-end, and modern TOTP (Time Based one-time Password Algorithm) data security methods are used to make sure that the Bluetooth gateways do not fall prey to DOS attacks or hacking.
Smart Warehouse Pallet Tracking
Reduce your time consumed in looking for the right pallets and tracking them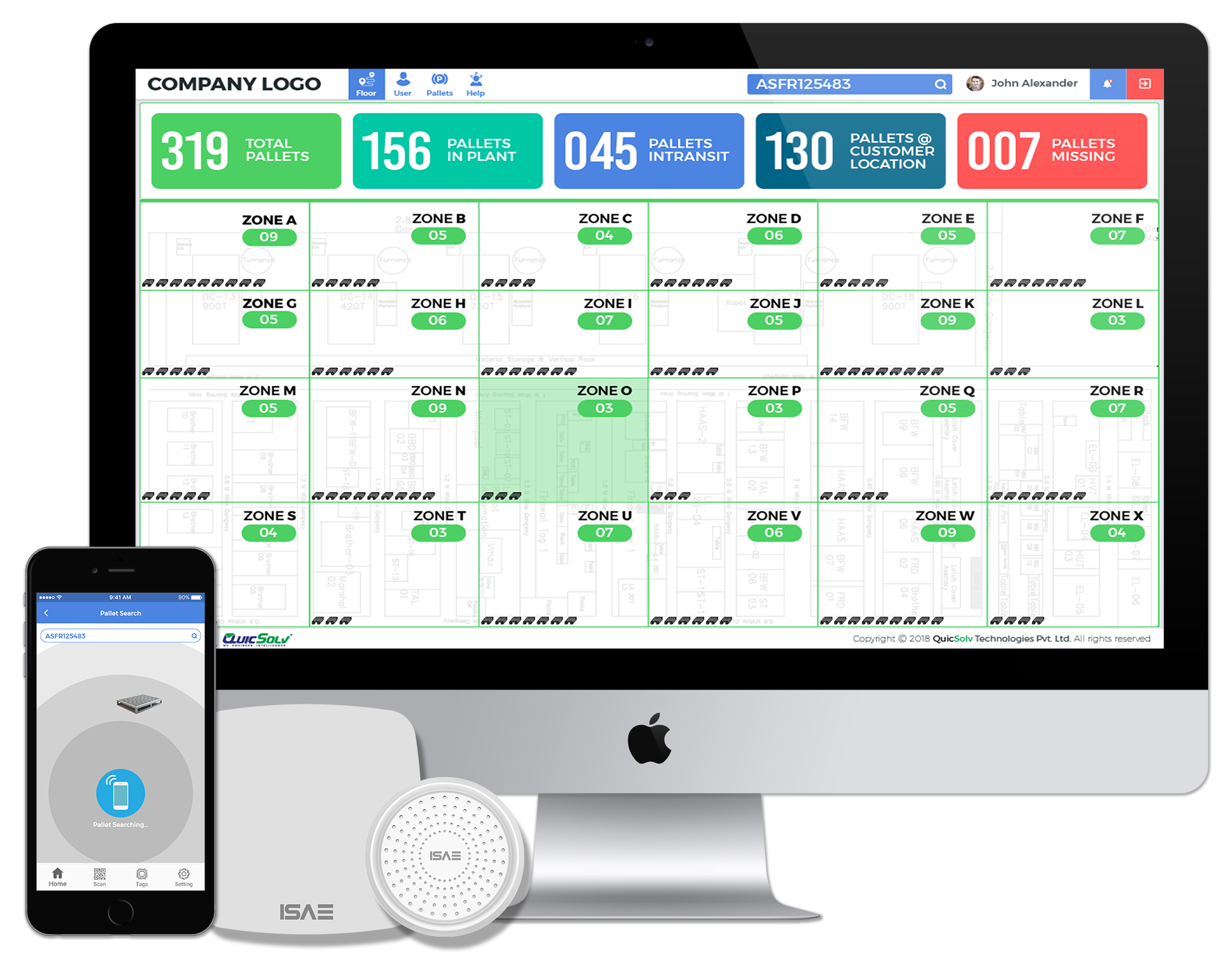 TALK TO US TO KNOW MORE ABOUT IT
Advantages of Smart Warehouse Pallet Tracking
Storage Optimization
Usually inventory is stored in separate zones to avoid mixing and easy retrieval. Real estate being costly, IoT bases warehouse pallet tracking can easily be tracked even if the items are stored together, thus optimizing storage space.
Mobile Phones can track and trace
If and when a warehouse pallet is out of the range of an ISAE Gateway, the system will tell you the last known location of the pallet. As all mobile phones are Bluetooth capable these days, IoT pallet tracking can search for the pallet using a mobile device easily, thus saving on buying specialized readers
Hyper Decision Making
By adding rules to the system, you can receive alerts when the rules have been breached. Monitoring of the pallets and the system will automatically take a hyper decision of alerting you the moment an error is spotted or rule is breached. If the warehouse pallet is moving in the wrong direction or is not where it should be, the RTLS system can immediately send an automated message to help correct the situation.
Real-time location
Finding a lost or misplaced pallet is very simple. You can not only get the real time information of the warehouse pallet up to the minute, but also back trace the location. This means no human error and fewer lost or misplaced pallets
Better Utilization of Employees
Employees can be better utilized in productive work than to search for pallets. Also, the data of where the pallet is and how long has it been there can go a long way in calculating the amount of time an employee spends on allocated tasks.
Low Maintenance
The BLE tags attached to the pallets work on a small battery. Their performance is such that they can last for almost five years. So, once you have fitted the pallet with the tag, you do not need to worry about its maintenance or it getting lost for a long time.
Pallet Security
As warehouse pallets can often be lost, stolen or misplaced, tracking them using an ISAE Gateway that uses bluetooth technology makes it easier to find. If the pallets are within 100 meters of an ISAE gateway, getting their location is just a matter of seconds.
How does Smart Warehouse Pallet Tracking Solution work?
ISAE Asset tags (tags) based upon bluetooth technology will be placed in the pallets in a way that movement, miss handling or load does not damage the tag. It also needs to be placed in a way where radio signals coming out of the tag can reach the gateway device.
Once the tags are attached to the returnable packaging like metal or plastic pallets, the gateways will start to receive location signals from the tags. The tracking solution will keep recording the location history, the dwell time and the movement in line with the rules prescribed in the system. As and when the rules are breached the asset tracking module will raise a hyper decision alert to appropriate personnel on their mobile apps.
You may ask how many tags can be deployed in a location? The answer is that, as the tags do not transmit very often you can have upto 10,000 tags in a given location without overwhelming the network or connections. For plants with upto than 10,000 assets, this is vital.
The logistics space is becoming increasingly digitized. RTLS systems will be necessary to make each asset easily localized, processes more optimized, and also to make accountability easier to manage. Warehouse Pallet Tracking using IoT's indoor mapping is one key step towards much larger changes happening in the industry.