A Cold Storage Warehouse is synonymous with frozen foods, but cold storage is used for other industries such as petrochemicals and pharmaceuticals. Having said that, management of a Cold Storage Warehouse is challenging as you need to keep the inventory at temperatures, sometimes below -18°F, but keep the equipment and personnel warm and also make sure that the cold storage is operating properly at optimum capacity.
Managing cold storage facilities could become challenging with issues like product traceability, tracking of cold storage equipment, optimal management of the warehouse space, managing shelf life of fresh produce and perishable foods, managing the safety of the workers etc. Traditional cold storage solutions require a great deal of micromanagement and documentation. This could lead to more person dependency than process dependency. With the internet of things, cold storage spaces can now be managed easily giving the cold storage industry complete visibility and traceability.
Challenges of a Refrigerated Warehouse
Product Traceability
Very accurate documentation and palletization processes are required to help find products quickly and efficiently. If a pallet is misplaced it could result in food safety issues and impact the cold chain. Sometimes the labels on the cartons can get damaged due to extreme temperatures, making it even harder to find products.
Equipment Tracking
Equipment like forklifts and other industrial cold storage equipment is required to move products in and out of the warehouse and in large cold storage warehouses, these may be difficult to locate, especially if it's not kept at a designated location. 
Tracking Shelf-Life
Correctly tracking the time the product came in and the use of best practices to ship the product to the distribution center before the product's end of life is one of the most important tasks in a cold storage room. Traditional solutions are time-consuming and do not have the necessary intelligence to act proactively, thus negatively affecting the supply chain.
Temperature Control
Controlling heat loss and balancing temperature changes are the biggest challenges of a cold storage warehouse. When warm products like fresh fruits and vegetables come in, they draw a more refrigeration cost. Decision making on the pallet storage without knowledge of the current temperature can result in higher overheads.
The challenges listed above can easily be overcome by deploying QuicSolv's ISAE framework and warehouse management software. RTLS or Real-time Location Systems when deployed in a setup like a warehouse, enables tracking of assets and equipment with ease. Using BLE based pallet solutions and tracking solutions, a cold storage warehouse can become easily manageable and process-oriented, with minimal dependency on people. You may want to know – How IoT Works. Now, let's see how this is done.
Smart Pallet and Equipment Tracking
Using

QuicSolv's ISAE Framework

built over Bluetooth Mesh equipment can talk to each other and update the central server on its current location in real-time

A built-in

accelerometer sensor

will automatically update the system of its movement from the stored location.

This will help in setting up a

utomated alarms or notifications

in case the equipment is moved away from it's designated place

The utilisation sensor will keep a record of the amount of time the equipment is used, thereby helping make optimisation decisions.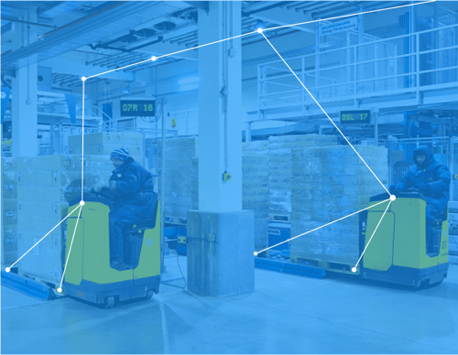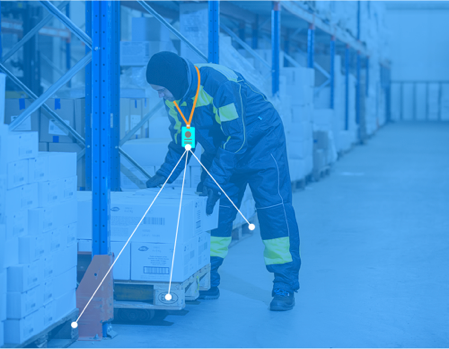 Smart Personnel Tracking
Safety & Security

– The employee Bluetooth tag will help keep a track on the time spent inside the warehouse and location in case of an accident

SOS button

–  the employee tag will allow the employee to send out an SOS signal in case of any danger.

Time Tracking

– There will be no need to maintain an attendance register. The tag will automatically record the in and out time

Communicate with Pallets – The employee tag will communicate with the pallets to send out any location movement information and a backtrace on who did it.
Introducing Smart Navigation
Lights become Beacons

– Lights inside a warehouse could be converted to smart lights. These lights act as navigation beacons

Mobile App

– Using the mobile app, once the item number or product name is entered, the app is instantly able to find the location of the product.

Real-Time Location

– This technology could be used to not only find a product but also find the equipment.

Movement Sensor – The accelerometer sensor along with our unique ISAE algorithm, will be able to sense the movement, current location and the location of the product or equipment.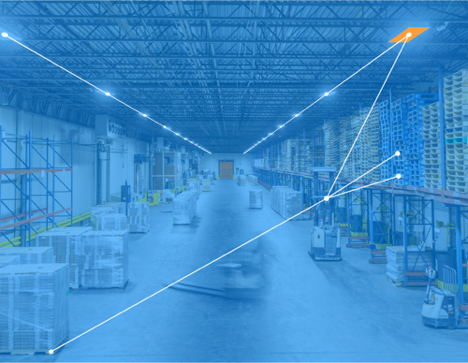 Advantages of implementing Cold Storage Warehouse Solution
Real-Time Location Tracking

– In a large warehouse, putting in RFID readers, for example, is not only very un-economical but does not give an adequate advantage. QuicSolv's ISaE Framework built over Bluetooth Mesh, allows asset tag fitted on pallets, bins, forklifts, lights and employees to talk to each other and update their locations.

Hyper Decision

– Business Rules built on these can help with real-time decision making. We call it the Hyper Decision. So, for example, an employee is inside the cold storage at -18 Celsius for more than  45 min, could automatically raise an alarm

Space Optimization

– With a proper solution in place, it is easier to optimise space within the cold storage.

Temperature and Humidity tracking

allows for automatic updates to the HVAC systems and help avoid stock deterioration. This also helps with temperature balancing and controlled heat loss.