&nbsp

Some fifteen years ago, getting a clap to switch on and off a light or a fan would have won me an award at the college!!
I didn't understand why that was so important, it seemed, simple enough. Of course, writing a paper on it, with potency for including artificial intelligence and fuzzy logic made it look even better and it would have won me inter-college competitions.
Years later, in the present time, I walk in to customer premises, study their systems and explore how to make IoT – Internet of Things to work for saving cost, time, loss and prevention of otherwise known, but ineffectual solution areas. The excitement is still intact!!
Automation is an inevitable part of what we do.
In today's world the with concepts of Automation Anywhere around, the fantasies of robots and intelligent systems like Jarvis in Iron-man has become far from reality. This change is fast approaching. Big question is how do we respond to it and how do we adapt or adopt it?
The approach road to it
In thinking about the approach for it , one would like to go back to the Golden Circle of Simon Sinek ( if you want to hear more about it – Simon Sinek – Start With Why – TED Talk )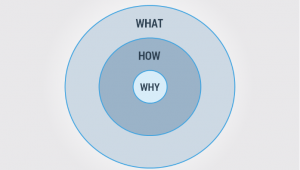 Simon Sinek's Golden Circle
The most important question would be Why you want to do it? Once you have the answer to this question, rest of the answers of what you want as a solution towards and how would you want to approach it becomes.
Discovery of what is going wrong- Do we fix it? or can we use a combination of technology to fix it?- If it's implemented with a tech piece, what is the cost of implementation and does it benefit the customer?- Can we make business run at zero cost post implementation of the solution
And of course, will the customer find value in implementing such a solution. IoT is no longer a vanity project.
Often time, the whole exercise of implementing ICT – Information & Communication Technology is seen as a vanity project.
Organization wide change driven disturbance happens, training needs come up and reporting methods and medium of information exchange, calibration and configuration is fundamentally altered.
In mature organizations, this may be a everyday thing.
In smaller organizations, it may not make any sense. Anyhow, we figure things out.
That's what we do.
Figure out the ideal implementation scenario, make recommendations and build a strong case for outcome based, value driven engagement.
Read more about When does IoT/Automation become viable to implement? and The Future of IoT & Automation
Feel free to connect with us: https://www.quicsolv.com if you want to discuss or share your ideas. We provide IoT services as well as IoT solutions based on our ISaE framework.