Augmented Reality App Development
For a lot of people, Augmented Reality (AR) still sounds like a concept from futuristic Hollywood movies. But in truth, this technology has been around for a while now. In spite of the growing trend of Augmented Reality apps, most people are clueless about superimposition and how AR really works.
In augmented reality, the real environment is simply modified by computer-generated objects around you. It is a technology that augments the view of physical environments on the mobile screen by overlaying them with digital content.
If you have recently tried to catch a Pokémon in your living room, you know exactly what Augmented Reality apps do. Although contrary to popular belief AR apps are useful in many more fields than just gaming. Retail and Real estate businesses also have a lot of scope for using AR. An AR app can enhance the experience thereby improving customer engagement.
Easy Visualization: Offers instant benefit by making it is easier for the customer to visualize an object in the proper context.
Personalized Content: Users get the chance to view the object in a personalized situation, by modifying characteristics as required.
Brand Awareness: Innovative approach of an AR app is bound to increase the visibility of your business and improve the brand image.
Better Understanding: An augmented reality app can give customers additional insight into the product or service.
Unique User Experience: Altogether an AR app can the improve experience and give users an improved outlook of the product.
Customer Retention: Customers see it as an exciting opportunity to get an interactive experience with the content, thus making them return.
Use of AR apps in different sectors
There are tons of opportunities for Augmented Reality in commerce. It has made its way into several fields of business; the reason for this success is its ubiquity. Here are some of the most popular industries where the augmented reality app is popular.
Retail
Whether it is online or offline shopping, an AR app in retail will give you a brand new experience. AR in the walls of a store itself or finding out the offers on a brand by just pointing your app in the direction of the store is what an in-store experience will involve. Whereas, online shopping can be facilitated with virtual trial rooms to help users choose the right size or color of a product. It can make shopping more fun as well as efficient along with reducing any purchase returns.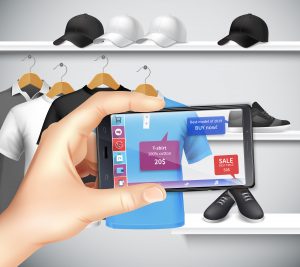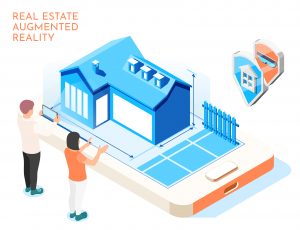 Real Estate
As real estate apps gain more traction, more and more people are using the internet to buy or sell houses. There is a lot an augmented reality app can offer for the real estate market. With the use of AR, customers can get a firsthand experience of the house without actually visiting it. This can help them filter properties accurately and decide which ones to personally visit. Thus, saving a lot of time for both clients and real estate agents.
Manufacturing
This may sound surprising but an augmented reality app development can prove very valuable in the manufacturing industry too. Any building processes can be accelerated with an AR app. Another advantage is that project managers can track the progress of workers in real-time through AR markers placed on the equipment. Pointing the app in the direction of the equipment can show a particular piece will fit into the structure.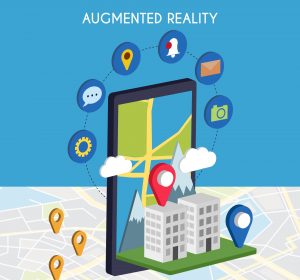 Travel and Tourism
An AR app can effectively make travel even better for tourists visiting a new place. An AR app along with a GPS feature can give directions, translate street signs, and provide additional facts while sightseeing. It is especially useful in museums, wherein users can get in-depth information about the exhibits. With the exciting ability to navigate and explore new destinations on your own augmented reality apps can really help in drawing more tourists.
Though these are only a few examples for industries where AR can be useful, there are many unexplored options in this business. We can foresee a bright future for augmented reality app development. An enhanced user experience, great marketing opportunities, and exciting prospects lie ahead. The increasing use of the internet and mobile devices are the significant driving elements here. This is the best time to get started with AR mobile app development and draw attention to your unique product!