A lot of businesses are launching mobile apps to allow customers a way to access their services anywhere, anytime. The healthcare industry is not far behind in this regard, a good healthcare mobile app can save countless lives. Unfortunately in terms of mobile app development, the healthcare industry is still quite under-served.
This could be due to the fact medical professionals are not well-versed in technological aspects of app development. An experienced development team is a solution to this! This guide will succinctly outline all you need to know about healthcare app development.
What is Healthcare App Development?
Simply put, healthcare app development is the process of creating mobile applications that can be employed to manage health conditions, fitness goals, patient management, telemedicine, etc.  The term for mobile phones or any technology used in the medical field is mHealth (mobile health). With the rise in technology, the importance of mHealth apps is also bound to increase.
mHealth has immense potential to transform the healthcare industry for good. Remote diagnosis and treatment, reducing costs, and improving the overall health of the population are only a few benefits of mobile health apps. There are several surveys showing that both doctors and patients would prefer using medical apps. Healthcare applications allow physicians to engage with the patients quickly and dynamically, by reaching out to them on their device whenever required.
A quality mHealth app is one that can meet the expectations of the patients as well as the doctors' demands, in terms of functioning, user experience, etc. To create a  proper healthcare application design healthcare providers and software developers need to work in cooperation.
Types of Healthcare Apps
There are different categories in healthcare applications that you need to learn about before you start building your mobile app. This will help you understand what type of app will be suitable for your project. With a clear idea, you can get a custom healthcare app built.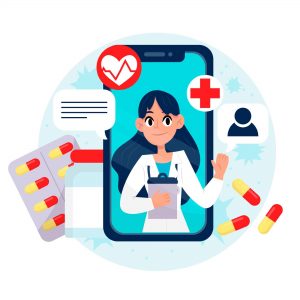 Medication Tracking App
It can be difficult for aged patients or even the just forgetful ones to keep track of their medications. This type of healthcare app can be used to set reminders and keep up with the medicine schedule. It also allows users to track doses, the number of pills, and the type of medications required at a time.
Emergency Apps 
In critical situations, emergency assistance is required. For example – a situation where the user suddenly loses consciousness or shoot up in blood pressure, they can use the medical app to ask for immediate assistance. With just one button click the app will call a hospital. In less serious cases, the app can also point the user to the nearest hospital using the location service.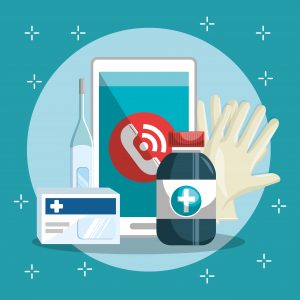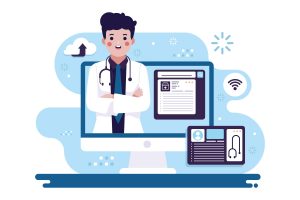 EHR/EMR Apps
This stands for electronic health records (EHR) and electronic medical records (EMR) apps. EHR apps are used to store data about all types of diseases for each patient, these are official medical records used by clinics and hospitals. Whereas, EMR apps store information about one specific disease which serves as the electronic copy of disease history.
Healthy Lifestyle Apps 
The mobile apps that focus on maintaining a healthy lifestyle come under this category. There are fitness apps whose goal is to stay fit, apps that help in monitoring diets, pregnancy analysis, dates, and appointments are some examples.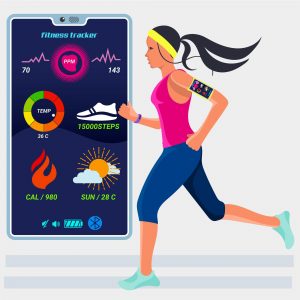 Advantages of Healthcare Apps
High Productivity – With doctors being able to use the healthcare app to solve any medical issues on-the-go. This makes the doctors work easier and they don't need to carry too many documents.
Increased Efficiency – As productivity is increased, so is the efficiency of medical services. Digital help in some of the routine processes like booking appointments, medication reminders, etc. will ease the workflow of medical staff.
Permanent Access – Patients gain access to healthcare experts whenever they require. They can find clear answers to their doubts about medicines, schedules, appointments in real-time.
Remote Healthcare – Mobile devices go where we go, therefore no matter the distance patients can always stay in touch with their chosen doctor through the healthcare application.
Permanent Access – Patients gain access to healthcare experts whenever they require. They can find clear answers to their doubts about medicines, schedules, appointments in real-time.
Timesaving – The ability to communicate through the app can save time for both doctors and patients. Any non-urgent issues or inquiries can be dealt with over the mobile app, without the need to spend time on doctors' visits.
Cost Reduction – Expenditure on the commute to the clinic or hospital can be avoided, along with the administrative work. Also, doctors can engage with patients personally through the app optimizing the patient's expenses.
KEY FEATURES
There are some basic features that need to be a part of the healthcare mobile app development process. These features can be considered as the basic foundation of your app. At the same time, also keep in mind the healthcare mobile app trends to boost your app.
Appointment Scheduling – This feature will help patients book appointments with the doctor of their choice, depending on the doctor's schedule.
Medical Data – All the patient data like prescriptions and other health records stored in one place will make it convenient for the doctor to access files as required.
Payment Gateway – Even if it is digital medical assistance, payments must be made. Make sure you offer users multiple payment modes.
Reminders – Patients will be given reminders about appointments, routine check-ups as well as their medications.
Real-time Chatbox – By integrating a chat feature, you can enable patients to chat with their doctor at any time.
Patient Monitoring – A lot of times patients can forget to keep up with the follow-up visit or to take medicines. This feature can help doctors monitor patients in consistency, virtually.
Geolocation – This is a splendid feature that can quickly locate nearby hospitals or help find the patient during the time of an emergency.
Reviews and Ratings – This offers patients a look at the quality of services provided on your healthcare app. Personal experiences about doctors and services are a great way to increase customer engagement.
Social Sign-in – Along with an easy sign-up process, you can also include social media sign-in. Users can sign in using their existing social media accounts with this feature.
Finding the Right Software Development Company
At QuicSolv, we work to provide excellent quality of custom healthcare app development. Our software development team's proficiency in healthcare technology can help your healthcare app idea turn into a fully functional reality. The tried and tested techniques we use for developing healthcare apps will work wonders as we bring your app to life.
We take time to understand our clients' requirements and turn them into the best version to build a truly unique experience of mHealth. We also know very well that a developer's job doesn't end at app development. Our skilled software engineers also help in mobile app maintenance with timely troubleshooting and improving medical app functionality.