The enterprise market has adopted the use of an iPad's very seamlessly. This is because it has a very close resemblance to a laptop from the screen size perspective. It is a mobile device with a good battery life and can be handled easily. The IT department in many enterprises have started using iPads for a wide variety of purposes. The health care segment, the manufacturing segment and many more industries have started using tablets. iPad's hold a very dominant place in the enterprise level tablet adoption.
We help you to plan your extension of software into an iPad app.
We help integrate your enterprise software securely with an iPad solution.
Our team is equipped to handle the end to end integration of business objects.
We help you implement, maintain and manage your app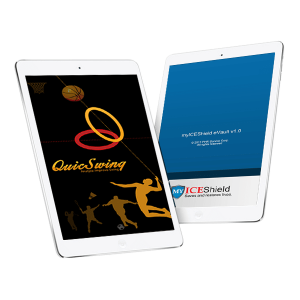 Why choose QuicSolv for your iPad App Development needs?
Every enterprise is looking at extending their legacy or ERP software's to a mobile app development platform. In most cases this does not come as an out of the box functionality. ERP software companies are scrambling to give this feature to their users, but for many the iPad app development is not in the software roadmap for quite some time. At QuicSolv we do understand the need for an enterprise to have certain features on an iPad.
Our Team - We have the capability of giving you an end-to-end solution. Right from the business analysts who have more than 8 to 10 years of experience in the industry to our user experience designer, to our iPad application Developers and finally our Quality Assurance Team; each one of them is motivated and highly obsessed with delivering the best ipad application. We never outsource your application and that is why our costs are much lower than our competition.
Our Services - The depth of knowledge and experience we have in building iPad applications is what makes QuicSolv the best choice for your iPad app development needs. Our contributions will help you make decisions with respect to your Strategic IT Development Roadmap. When we talk about strategy we do not only help with designing and building your ipad applications but we also help you build the right plan for application rollout and maintenance throughout its lifespan.
Why do you need a different design for iPad apps?
The answer is very simple, User Experience. Even though iPads can run your iPhone app, the user experience of an iPad is different from that of an iPhone. An iPad has a generous screen and easy touch navigation. It is important to build a relevant user experience for the iPad. We at QuicSolv consider the following before building your iPad application.
We understand from you the objective, scope and the end customer for the iPad app.
With more real estate available to us, our user experience designers help build the wireframes for you to see the end result before the app is actually built.
We take into account the landscape and portrait layouts and build separate user experience journeys for each layout.
We track the development of the project using proper project plans.
We build the application as per the guidelines from apple.
We give you a link to help you check the application and give feedback (we take your feedback very seriously).
Once ready we help upload the iPad app to the app store and work with you till it is approved.
You can opt to sign up for the Mobile App Maintenance program for as little as USD 200 per month.
Ipad App Development Capabilities
Every business has a different DNA and we at QuicSolv do understand that. We understand your business and take into account your mobile strategy before we give you an optimum ios development solution for your requirement. Given below is a list of our capabilities for developing iphone apps.
We are capable in consuming REST, SOAP and WCF APIs . This is particularly helpful in data centric solutions, where the data is centralized and secure.
We are capable in building Swift based iOS applications. We generally recommend Swift when you are starting from scratch.
Objective-C is also a language we are proficient in and we have built large enterprise mobile applications using this language.
We are capable of building iPhone applications that can be private labeled in future. Contact us so that we can give you some examples.
We have experience using Parse as the backend service. We recommend this for applications that don't need to set up their own server for backend and are low on the number of transactions.
We are a one stop shop that can build enterprise applications that need to string together a web application + backend API services + mobile application development.
If you have an app idea or have your thoughts on your mobile strategy and you want to run it through with us, please send us a message and we can set up a time and date to talk. We do take privacy very seriously and will never spam you. You will be pleasantly surprised on how our team of experts will be able to easily comprehend your idea and give you a quote for your great mobile app.
Some Case Studies of our iPad App Development
Hire an iPad App Developer
If you are short staffed and need a hand to speed up the delivery of the project, you can hire our iOS developer. Get your iPad apps developed by hiring your iPhone developer now.